Summer 2022 GHS SVYM Intern Blog
Nishimwe Esther, Summer GHS SVYM intern
June 27, 2022

Hello! My name is Nishimwe Esther and I am a senior at the University of Iowa planning to graduate in May 2023 with a BS in Global Health. As an intern during the summer of 2022, I am taking part in the Swami Vivekananda Youth Movement (SVYM) non-governmental organization. Although the COVID-19 pandemic reinforced virtual communication, the opportunity has been an incredibly enriching experience. I initially wanted to collaborate with this organization because we had similar interests that included health equity and policy and getting hands-on experience of how NGOs are conducted on the ground. During my time with SVYM, I created a manual for co-curricular activities and how to incorporate them into the tribal schools.
In the first week of the internship, all the students and mentors could introduce themselves. Mentors presented about India's healthcare system, education, and status of their women. These sessions were able to clue me in about our projects and provide way more background information than I could have ever done with research prior. I am very grateful we had an introduction in that manner. I was fully introduced to my team and my project in the second week. The following two weeks of the project entailed gathering my research and data that would be used to draft my manual. At the end of the week, I would present my findings and we would discuss how to move forward.
My mentor Mr. Padmaraju, along with his cohorts, has been working on an educative manual concerning co-scholastic activities for tribal students, the benefits of the activities, how to incorporate the activities into their timetables, and how students are qualified and assessed. Every week we discuss my progress and understanding of the concepts and project as well as ask any questions. We are in the 3rd week of the project and I am almost ready to present my manual. The most challenging aspects of the internship so far have been communicating and portraying concepts and traditions of the school that can only be experienced in person. I still feel a disconnect regarding the impact I am making, and being able to be at the school itself would allow me to have more of an understanding of what the children's needs and wants are regarding co-scholastic activities. Another challenge has been being able to ask clarification questions without coming off as rude or disrespectful. My mentor noticed and reassured me that it's fine to do so.
To conclude, I am beyond grateful and blessed to have been offered an opportunity that not only changes my life and perspective but also positively affects the organization and the people they serve. Before beginning the internship, I felt an intense amount of imposter syndrome, but that slowly went away as my lead provided me with constructive criticism and effective guidance. All my mentors are incredibly sweet and kind and have been very patient with me regarding the steep learning curve. I believe this project will help students become more engaged in the classroom and decrease dropout rates. I look forward to presenting my project in the fall and sharing all I have learned!
Denise Perez
June 13, 2022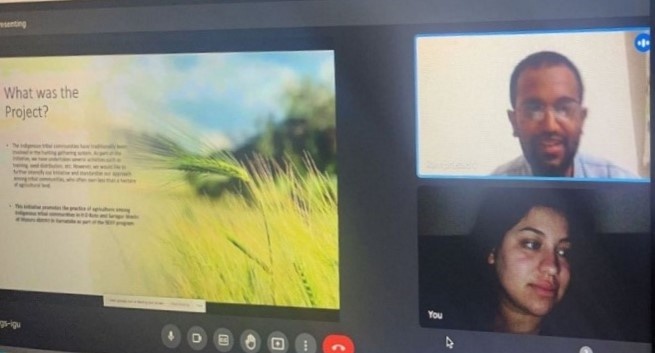 Hello, my name is Denise Pérez, and I am a senior graduating in Fall 2022 from University of Iowa with a BA in Global Health Studies, a Sustainability Sciences Certificate and a Latina/o/x Studies Minor. This summer I have had the pleasure to be virtually interning for the Karnataka-based NGO (non-governmental organization) known as the Swami Vivekananda Youth Movement (SVYM). Based on my intersecting interests in both the environment and its relationship with humans, I chose to do the Socio-Economic Empowerment Program: Successful interventions to promote agriculture among tribal communities.
SVYM has a long, successful history of helping tribal people, specifically tribal farmers. As an example, during the peak of the COVID-19 pandemic, SVYM supported farmers by proving food security, nutrition and livelihoods to farmers from marginalized communities. They provided seeds to 495 farmers that included cotton, maize and other vegetable seeds. The farmers' final earnings were 17 million rupees.
My project only enhances the support SVYM has created for tribal farmers. While working in this program, I've had a variety of different tasks to standardize approaches for these tribal communities. I researched and created analyses on other tribal communities' agricultural methods both in India and globally. I specifically looked at what's worked, what hasn't, and how this compares to the tribal communities in H D Kote and Saragur. Overall, the focus was to see what we can take from these other tribal groups to improve yield returns and which seeds will do best with Indian soil and water dependency issues, focusing this project on short-term goals that are reachable and what works best for their land and what they have available to them.
This internship has given me the opportunity to have an insight into what my career path might look like or could look like. Due to the current pandemic, I was not able to physically be in India and work with my mentors and tribal farmers. I have had more bumps in the road than I expected due to trying to balance work with the internship. Regardless, my mentors and the staff of SVYM have been incredibly supportive and communicative throughout the whole internship.
 We are currently towards the end of the internship where all interns are getting our presentations and research papers finalized. I am super excited to finally present my findings and see what the other interns have been working on this summer.
María Martínez Rangel, Summer GHS SVYM intern
June 6, 2022  

Hey! My name is María Martínez Rangel, I am a rising senior at the University of Iowa majoring in Global Health Studies, minoring in Latina/o/x studies and Spanish. This summer I have been given the opportunity to intern for Swami Vivekananda Youth Movement (SVYM). They work in sectors such as health, education, socio-economic empowerment, as well as in training and research. I was particularly interested in SVYM's work within the health sector and how they help their communities in Mysuru, Karnataka, India.
In the first week, we had several different learning sessions: healthcare in India, education systems in India, socioeconomic empowerment initiatives at SVYM, and an introduction to India. These sessions have allowed us to gain better insight into SVYM's work and into some of the other interns' projects, which were all very interesting.
For week two, I met one of my mentors, Ms. Vidyashree. In this meeting, I was able to learn more about the specifics of my project. The project I chose to work on focuses on analyzing information on attempted self-harm cases from the Vivekananda Memorial Hospital. This project aims to understand the community's need for mental health care services. In order to help the community, they have gathered data to find potential risk factors, the population that is at higher risk, and more. Throughout this week I have been reading some reference articles to understand the complexity of treating mental health. There are so many ways that mental health can be understood and treated, so it is essential to be culturally aware to effectively help the population in need.
My other mentor, Dr. Seetharam, gave a presentation on the topic of disability in India this week as well. Dr. Seetharam mentioned that the concept of disability depends on the context, environment, expectations, and individual capacities. However, as a society, we are conditioned to think that if someone is unable to do something we can, they are considered not normal. Connecting this to the topic of mental health, many times people are stigmatized and regarded as not 'normal,' and thus are treated as a person with a disability. It's important for us to reflect on why we do this and how we can do better to destigmatize these topics and move towards a more positive attitude.
While we just finished week two, I'm excited to continue working and learning from both of my mentors and from other faculty at SVYM!