Gricelda Arroyo graduated from the University of Iowa with an B.A. in Global Health Studies and a Certificate in Disability Studies in 2018. She discusses her journey to a Global Health Studies degree and how it prepared her for her current position as a Project Coordinator with Proteus, Inc.
Was Global Health Studies your original major? If not, what caused you to consider Global Health Studies?
I initially transferred to the University of Iowa my junior year for Physical Therapy. Somehow, during orientation, I went into the wrong classroom, which was a public health orientation class, and sat there till the very end. I have always had a passion for health and the well-being of people. During that time the College of Public Health was new and was not offering any type of bachelor's degree in Public Health. As I continued searching, I came across GHS. I then met with GHS advisor Karmen Berger. With her support and kindness, she reassured me I had made the right choice. I fell in love with the purpose of global health and the infinite possibilities for career pathways it has to offer.
What course or courses at the University of Iowa have been valuable to you in your work right now, and what would you suggest to others?
Engaging in Global Health and Introduction to Global Health Studies were two of my favorite courses. I learned and was able to demonstrate my knowledge with the coursework through presentations, public speaking, essays, and research projects. I would suggest starting with courses of your interest and knowing your strengths and skills. GHS has a variety of fun courses for everyone.
Did you partake in research, an internship, or anything outside the Global Health Studies requirements? If so, how did that prepare you for your job now?
I had the opportunity to study abroad in Romania through the Minority Health and Health Disparities International Research Training program in 2018. I was assigned to a research project in which I was responsible for developing an intercountry report of the 5 countries in the research project. This opportunity allowed me to enhance my social skills and emotional intelligence while also helping me develop project tracking tools, create implementation plans, and give status reports, which I do at my job today!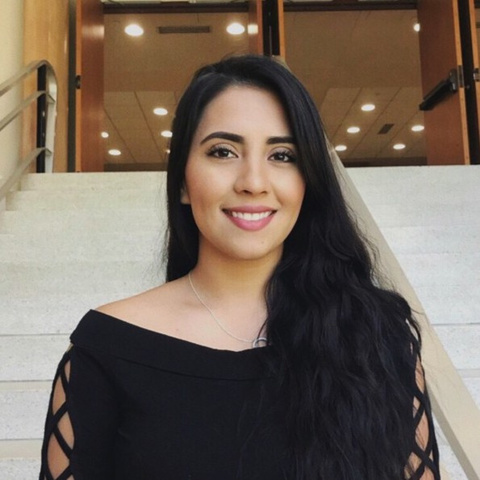 Do you feel that the university fully prepared you for the workplace?
College did two major things for me. I learned to get out of my comfort zone and to truly believe in myself. If you want to know as much as possible in your chosen career, remember you never quit learning. During undergrad I went to all kinds of workshops, took extra night classes, joined professional groups, and made good contacts. I know it can sometimes feel lonely if you're the only Latine in the room, but we belong in these spaces, too. Remember to take every day as a learning experience. It might feel like every day is the same, but take the chance and embrace the opportunity to grow your mindset.
 

"For all first gens who are breaking barriers...I see you, I hold space for you, we deserve this space, we deserve to be here and our ancestors would be so proud of us. ¡Sí Se Puede!"
Within your field, what do you suggest to someone who's looking to go into a similar position to yours?
Get to know yourself, your preferences, and your passions. If health education and promotion or program management is something you love, go for it. Don't be scared to fail; keep trying until you find your purpose. Apply for positions even if you're scared to get turned down. Every experience is a learning opportunity. We will learn something from that moving ahead.