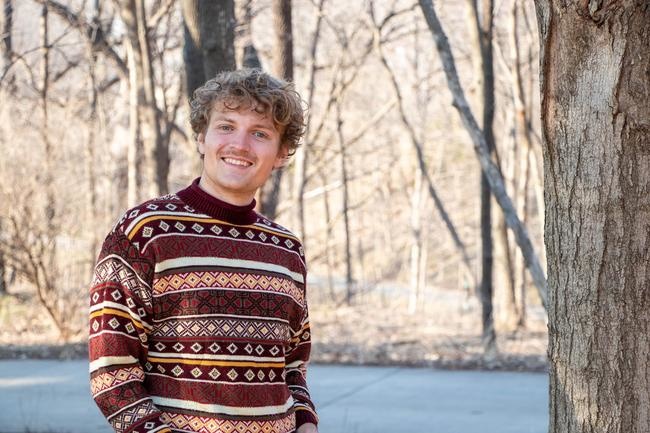 Lucas Fagre, who received a BS in global health and a BA in anthropology from the University of Iowa in May 2019, is the winner of a Fulbright Study/Research grant in public health to Bulgaria and Romania for 2020-21.
Hometown: Waverly, Iowa
Award: 2020-21 Fulbright Study/Research grant in public health to Bulgaria and Romania
Lucas Fagre is the recipient of the only dual-country grant offered to Bulgaria and Romania this year!
What is your degree program?
BS in global health, BA in anthropology, minor in Russian studies.
Could you give me a brief synopsis of what you'll be doing with your Fulbright?  
I will lead interviews with Roma families and Roma medical personnel in order to determine what factors lead to the low vaccination rates among Roma children that we see in Sofia, Bulgaria, and Cluj-Napoca, Romania. The Roma populations in these two countries experience regular measles outbreaks, and my research would seek to provide policy recommendations that would encourage and facilitate vaccine access among Roma in a culturally-sensitive way, with the ultimate goal of helping to mitigate future outbreaks. I was able to undertake preliminary research in public health in Romania funded through the NIH-funded Minority Health and Health Disparities International Research Training (MHIRT), and preliminary research in Ukraine funded by a 2018 Stanley Award for International Research from the Stanley-UI Foundation Support Organization.
What drew you to this field of study? 
I like that anthropology, when done in a spirit of partnership with a group experiencing structural difficulties, can be used as a tool to advocate for and give a voice to said group. When an anthropological perspective focuses on health issues it can allow marginalized, minority groups to voice their own health concerns. In this way public health disparities that might otherwise be missed by more wide-reaching, quantitative public health research tools can be identified. I find that intersection between health research and self-advocacy incredibly interesting and important.  
How do you envision this will influence your future career? 
I intend for this research project to prove an extremely important foundation in my future career as a medical anthropologist. It would give a basis from which I can pursue a PhD, with which I would continue studying how social marginalization, health inequalities, and self-advocacy intersect.
What advice do you have for future students interested in applying for a Fulbright? 
Don't stress too much, and if you don't get it on your first try, don't immediately give up. Take some time off not thinking about it, and then don't be afraid of reapplying in the next annual cycle. This is actually my second time applying for a Fulbright, as my first application didn't work out. The people here at Iowa continued to support me, and I'm very happy I didn't give up.
Are there individuals you'd like to thank for their investment in this process? 
There are so many people I'd like to thank. I'd like to thank Dr. Karen Wachsmuth and Dr. Christopher Squier for their indispensable and constant help with the application writing process. I'd like to thank my recommendation writers, Dr. Theodore Powers, Dr. Erica Prussing, and (again) Dr. Squier. And I'd like to thank my longtime mentor here at Iowa, Dr. Margaret Mills. My application would have been hopeless without all the wonderful assistance I received.